KFC Australia's Unfortunate NSFW Promo Was Posted to Its Twitter Account for an Hour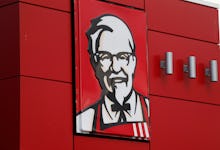 Friday morning, KFC tweeted out a teaser ad announcing, "Warning: #NSFW. Something hot and spicy is coming soon ..." The accompanying photo shows a woman reaching toward a man's (pixelated) crotch.
According to Yahoo News, the tweet that @KFCAustralia posted at 9 a.m. local time, was only live for an hour before the company removed it, but it was more than enough time for Twitter users to take screenshots and get some jokes in.
Read more: Virginia Woman Says KFC Fired Her for Being Transgender
Others found the tweet less than funny, saying that it was offensive to women — perhaps joining in on a legacy of fast food restaurants sexualizing women to sell their products.
KFC Australia later apologized on Twitter, writing, "We are very sorry for our earlier tweet on H&S — we didn't mean to offend and removed it when we realised we made an error in judgment." The franchise also released a statement to Mashable, adding, "The post was meant to be a roll-out of our new Hot & Spicy products but we overstepped the mark and are sorry for any offence caused."
So the fried-chicken chain cleared up one sexual innuendo. Now all that's left is to address its slogan: "Finger-lickin' good."