Snowden Is About to Drop a Sick Techno Track With Jean Michel Jarre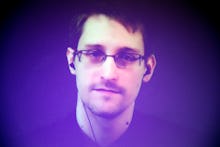 First, Edward Snowden blew the whistle on the National Security Agency. Now he wants to blow your mind with a sick techno track.
In an unlikely set of events, Edward Snowden is teaming up with electronic-music guru Jean Michel Jarre on a track that will be released this weekend, according to the Guardian. The song, called "Exit," will feature Snowden speaking over Jarre's futuristic beats. 
Ahead of the release, Jarre put together a music video of his interview with Snowden that is currently being hosted on the Guardian's site. If "Exit" is anything like the interview soundtrack, it will probably sound like you're being chased through the Matrix.
"It was something I wasn't expecting. As an engineer, someone who's not really cool, it was something of a treat to collaborate on a big cultural project," Snowden said in his interview with Jarre. Naturally, Snowden says he's always liked electronic music — especially the kind played in video games. 
Snowden and Jarre came together thanks to the Guardian. When Jarre gave an interview to the newspaper last year in advance of his album Electronica I: The Time Machine, he asked the publication if they could connect him with Snowden. Jarre had written him a song and wanted to share it. 
The Guardian introduced Jarre to Snowden's wrangler, and eventually the two were put in touch. Jarre and Snowden reportedly chatted for an hour and a half about the project and Snowden's experience revealing the NSA's massive surveillance program. Jarre then traveled to Moscow to meet with Snowden in person and record. 
"The whole Electronica project is about the ambiguous relationship we have with technology: on the one side, we have the world in our pocket; on on the other, we are spied on constantly," Jarre told the Guardian. "There are tracks about the erotic relationship we have with technology, the way we touch our smartphones more than our partners. ... It seemed quite appropriate to collaborate not with a musician but someone who literally symbolizes this crazy relationship we have with technology." 
The track will be on Jarre's upcoming album Electronica II: The Heart of Noise, which will be released May 6. We can only hope that "Exit" will be 2016's "Everybody's Free to Wear Sunscreen."