Reddit's Sweden v. Donald Trump Subreddit Drama Features Penis Jokes and Gloryholes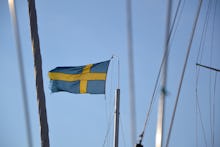 Republican presidential frontrunner Donald Trump is known for holding a number of unorthodox positions. The gadfly sentiments also run deep among his followers online who recently unveiled a new target: Sweden. 
Posting in the /r/TheDonald page, Reddit user mengameng uploaded a photo of the Nordic states with a large penis and testicles drawn around Sweden and Finland. 
Read more: Every 16-Year-Old in Sweden Will Get This Iconic Feminist Book
"Sweden. Let's make this image the first thing people see when they search google for Sweden." the image was titled. 
It wasn't Rembrandt, but it got the point across.  
As has been documented, Trump's support on forums like Reddit and 4chan run deep with often freewheeling commentary and trolling on just about anything — arguably even the candidate himself. This most recent ephemera may have slinked away but for the proud Swedes and their allies over at /r/Sweden where randomguy2800 posted this photo entitled "Glory Hole in /r/The_Donald"
— You can see where this is going.
The cut to /r/TheDonald was more than a pinprick, as the candidate literally made the size of his penis a major campaign issue during a Republican debate in March when Sen. Marco Rubio made fun of Trump's hands.  
"And he referred to my hands: If they are small, something else must be small," Trump said. "I guarantee you there is no problem. I guarantee you."
Does this mark the beginning of a great nerd conflagration? Only time will tell.