Bernie Sanders Supporters to Organize "Berniechella" During Coachella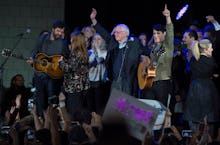 It is official: We have reached peak Bernie Bro.
In the middle of Coachella 2016, a music festival that doubles as a pilgrimage for the bros of the world, Bernie Sanders supporters will be organizing their two-day block party, appropriately named "Berniechella."
Read more: Watch Bernie Sanders Sing "This Land Is Your Land" With Vampire Weekend
It's set to kick off Thursday, April 21, the day before the start of the second weekend of the festival, in the Old Town district of the Coachella Valley in Indio, California.
Like Coachella, the block party will feature an eclectic mix of music, including Edward Sharpe and the Magnetic Zeros' frontman Alex Ebert, Ozomatli, Moses Summey, Venus and the Moon, and DJs Shepard Fairey and Zoë Kravitz. Unlike Coachella, it will be absolutely free for the 1,500 to 3,000 attendees the event is expected to draw, according to Consequence of Sound.
As of now, the event is not official and Sanders has not confirmed his attendance. It's simply "a party of people who are in support of a particular candidate," the event's organizer, Tizoc DeAztlan, told the Desert Sun. It will have live art installations, beer gardens and vendors — and the city of Indio won't have to pay for a dime of it.
"I think it's good for us," Mayor Steven Hernandez said, according to the Desert Sun. "It's good for democracy, and it's good for the city."
Sanders has already used music to reach his voter base several times. He's had Vampire Weekend perform at his rallies twice. He's gotten introductions from Killer Mike and Bon Iver's Justin Vernon, and on Sunday, he will essentially reunite Grizzly Bear to play a rally in Brooklyn, New York's Prospect Park. 
Watch footage from Vampire Weekend's set at Wednesday's New York City Sanders rally below.