Sarah Palin Says Bill Nye Isn't a Real Scientist. He Is.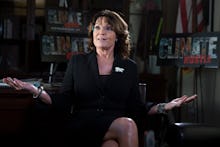 Sarah Palin just called Bill Nye "as much as a scientist" as she is, which is almost as nonsensical as throwing a snowball on the Senate floor. 
Palin, climate change doubter and the former governor of Alaska, made the claim Thursday in Capitol Hill while promoting her film Climate Hustle.
"Bill Nye is as much a scientist as I am," Palin said. "He's a kids' show actor, he's not a scientist."
Nye, the science educator, television host and CEO of the Planetary Society and fellow of the Committee for Skeptical Inquiry, has a bachelor's degree in mechanical engineering from Cornell University, where he also taught as a visiting professor. Nye worked at Boeing for years before becoming an entertainer. He is still an active scientist: Nye even developed sundials used in NASA's Mars rover missions.
Palin claims that by saying global warming is manmade, "fearmonger" scientists are holding us back, according to the Hill. Palin also coaxed parents to pass down climate change skepticism to their children and to "ask those questions and not just believe what Bill Nye the Science Guy is trying to tell them."
Palin targeted Nye likely due to his appearance in the film she was promoting, a film conservative news site Breitbart called "dynamite," and Cal Thomas, who compares belief in climate change to belief in the tooth fairy, reportedly called "tremendous." 
Nye published his own video Tuesday on YouTube to discuss Climate Hustle, pleading with Morano to reverse his stance on climate change. 
"If you embraced mainstream science just think of the good you could do," Nye said. "I'm not kidding, man, I'm not joking with you. Just think what you could do for the world if you came around. You could be a force for good."  
Morano also asks Nye if it was embarrassing for him to watch clips from a documentary painting Nye's side of the climate change movement as incorrect. To which Nye succinctly responds: "No."