This Pasta Sauce Company Is Warning People Not to Eat Too Much of Their Product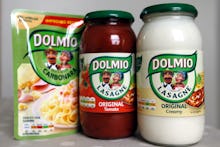 Would you still pick up a jar of pasta sauce if it came with a warning that was pretty much telling you not to eat it? Mars Food recently announced it will begin adding labels to some of its products that will encourage consumers to eat them as an "occasional treat" because of high sugar, salt or fat content, the Associated Press reported Friday.
Read more: Experts Think "Exercise" Food Labels Could Curb Obesity. Here's Why They're Wrong.
"Mars Food is dedicated to inspiring people to cook healthy meals at home with friends and family," the company announced in a press release. "Mars Food hopes to build awareness about the value of shared meals and help consumers practice healthy cooking at home."
The labels will appear on some of Mars Food's Dolmio brand pasta sauces and macaroni and cheese products, Reuters reported, but not Mars' candies, which include Snickers bars and Starburst. The company plans to post a list on its website with suggestions for "everyday" foods and "occasional" foods.
"Our nutrition criteria sets a very high standard for our products," Fiona Dawson — global president of Mars food, drinks and multisales — said, "and we also want to help our consumers understand the difference between 'everyday' and 'occasional' products within a balanced diet."