Islamophobia at Idaho State University: 50 Students Have Been the Targets of Crimes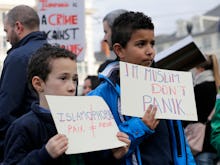 An estimated 50 students from Kuwait and Saudi Arabia attending Idaho State University in Pocatello, Idaho, have been the targets of a string of hate-related crimes, including off-campus home burglaries, vehicle vandalism and reports of physical abuse.
"As we can all imagine, home invasions invoke fear, sadness, anger and bewilderment," university President Arthur C. Vailas wrote in an statement to the Idaho State University community. "Our hearts go out to these affected students as well as their peers, who worry that they may be next. These students are far away from home and family and have chosen to attend Idaho State University for its reputation for high quality educational programs in a safe environment."
Due to the nature of the crimes, some students have reportedly begun to question if they should remain at the university. "This would be a devastating loss for our community and would earn us an undeserved reputation for discrimination, bias and racism," Vailas wrote in his letter. 
Gulf News reported Wednesday that Kuwait's higher education minister, Badr Al Eisa, was suspending scholarships for its students to attend Idaho State in light of the Islamophobic incidents. 
Meanwhile, Pocatello Mayor Brian Blad is reaching out to both Saudi and Kuwaiti officials to find a solution that will keep international students at the school. Blad told the Idaho State Journal Middle Eastern students contribute as much as $150 million per year to the local economy.
h/t Fusion
Read more: Islamophobia Is an Epic Waste of Time and Energy and This Graph Shows Exactly Why