This Flying Bike Is the Stuff of Science Fiction — And It's About to Become a Reality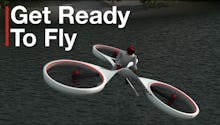 A team of geniuses in Hungary are creating a flying bike — or a Flike. 
Bay Zoltan Institute, a Hungarian government research initiative, has been developing the Flike and is working on making it publicly available. It would cost $100,000, CNN reports, so start saving up now. 
Read more: Austria Just Legislated Hoverboards — Even Though They Don't Really Exist Yet
In March 2015, the Flike team demonstrated the contraption's capabilities with its first manned flight. But they've since created a simulation of what the Flike experience would look like:
The tricopter has three propellers, is an electric mode of transport and can fly for up to an hour at around 60 miles per hour, according to CNN. It can also carry approximately 220 pounds in weight. 
Numerous media outlets have likened the device to the Speeder levitating bike and the podracers featured in the Star Wars franchise.
While the test flight was less than two minutes long, the aircraft was able to do pretty much everything it was designed to do. 
In the meantime, developers are working on getting the Flike to realize its full potential and fly for up to an hour. 
The first manned flight can be seen here: