Bosco and Speakerfoxxx Are "Calling All Badass Women to the Yard" With Their New Mixtape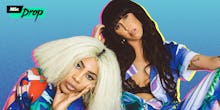 This piece marks the launch of Mic Drop, a Friday series highlighting the musicians making the boldest social, political and artistic statements that week. Bosco and Speakerfoxxx are up first, talking their new tape 'Girls in the Yard' featuring the bossy, empowering single "Beemer."
Atlanta-based R&B artist Bosco had been making money and building her styles for years before she met her latest muse, Atlanta trap provocateur Speakerfoxxx. An alumna of Converse Rubber Tracks' program and recent signee to Fool's Gold records, much of Bosco's work is drenched in ethereal and dreamy vibes. However, as she showed the world at a high-energy show at New York City's Music Hall of Williamsburg on April 6, Bosco's now feeling to turn all the way up.
Read more: Anna Wise, Kendrick Lamar's Right-Hand Girl, Debuts Empowering Feminist Anthem "BitchSlut"
On Monday, Bosco and Speakerfoxxx released their latest collaborative mixtape Girls in the Yard, which contains the spotlight single "Beemer." It's a fierce, in-your-face, feminist record, drawing inspiration from Missy Elliott and Jamaican dancehall artist Beenie Man. The sultry mix of trap and R&B they've created seems like something the world has been thirsting for. And they're using it to push messages the world needs to hear.
Mic: Production is an extremely male-dominated field. How did it feel connecting and working with Speakerfoxxx, who's a female producer, for a change?
Bosco: I honestly feel that with women, certain things don't have to be said — certain things I've been wanting to say lyrically that I didn't necessarily feel the most comfortable with male energy. And that's not to say there's anything bad or good. It's just an energy thing. And Speakerfoxxx was able to pull certain things out of me that were hidden or buried or subdued.
She can relate to a lot of my personal struggles, being that she's a female in a male-dominated industry. It was a fresh breath of air for both of us. It's like we restarted both our computers like "Ooh! Reboot! This feels good!"
Can you give me an example of some of the lyrics she helped draw out of you?
Bosco: "Show me a bitch that's trilla." I would have dressed that up so different, like, "Show me a girl that's trilla." But Speakerfoxxx was like, "No, say 'bitch.' It's your word. Own it." And "Beemer" happened to be the song everyone gravitated to. I thought it was going to be "Shooter." But the girls, the ladies, the mamis, they love it. They love feeling empowered. They love feeling sexy. We took inspiration from Beenie Man and Missy Elliott, like "Who's got the keys to my Beemer?" Who's got the keys to all this shit that's supposed to be mine?
"Who's got the keys to my Beemer?" Who's got the keys to all this shit that's supposed to be mine?
I find it interesting that your last EP was called Boy, and now this tape is Girls In the Yard. Why did you feel it was important to release this kind of girl power album now?
Bosco: For so long, women have been suppressed and have been told "no." Whether it's dealing with sexism or career paths, it's always something. Right now, I just want to be that example. 
I have so many women hit me up and say, "I'm inspired by your journey, by your story." I want to be that voice for them. I want to show them there's an alternative way of living. I want to show them that you can do it too. I'm trying to take people to church, make the Church of Women. 
Girls in the Yard is basically calling all the girls, whether you're a creative, a tastemaker, a singer, a designer — we're calling all badass women to the yard and encouraging them to do what they want to do. Not to alienate men, because that's basically doing what guys do to us. We're not excluding men at all, but we're bringing women to the forefront. 
Listen to the "Beemer" single below and stream the full 'Girls in the Yard' tape on any of the major platforms, or download it at BitTorrent Bundle.