Patrons Tipped North Carolina Waitress With an Anti-Gay Bible Verse Instead of Cash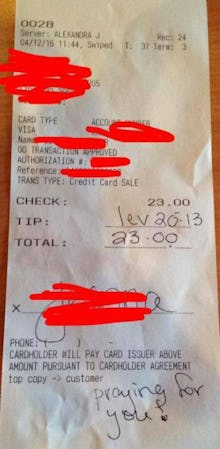 Instead of leaving a cash tip, a group of women at a North Carolina restaurant left their waitress a Bible verse and the words "Praying for you!" at the bottom of the check. 
According to Charlotte resident Alexandra Judd, the ladies were "very rude" and would "hardly talk" to her. The women left the oft-quoted Bible verse Leviticus 20:13, which reads: 
"If a man lies with a male as with a woman, both of them have committed an abomination; they shall surely be put to death; their blood is upon them."
Judd has received religious-themed tips before, but never one this violent. 
"I never expected a hateful gesture like this," Judd said to WBTV. "I've had a guest leave me a pamphlet to their church as a tip one time, but I didn't feel as if they were being hateful toward me."
Currently, North Carolina is a site of much controversy following the passing of the most sweeping anti-trans bill in the country. 
While hate is written into the law — and several groups are trying to address it — this level of person-to-person disrespect still stings. 
"I don't care what anyone says, this is the most disrespectful thing you can do," Judd wrote on the Facebook post. "Don't pray for me darling, I have everything I could possibly want and need in my life."