This 15-Year-Old Syrian Girl Is Campaigning Against Child Marriage in a Refugee Camp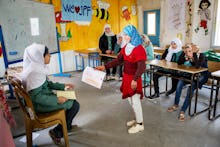 "Girls from my home have their future lost or destroyed. This is something I can't accept."
These are the words of Omaima Hoshan, a 15-year-old Syrian refugee, living in the Jordanian Za'atari refugee camp and who is campaigning against child marriages for girls — particularly to older men. 
She speaks at length in a new video by the UN High Commissioner for Refugees, published Tuesday, in which she explains why the issue holds special weight for her.
Hoshan was spurred into action after her best friends was married off at the age of 13. 
"We were always together, and she was one of the best students in our class," Hoshan told UNHCR. "She didn't want to get married, but her parents thought it was the best option for her."
Today Hoshan runs workshops for teenage girls and their parents, trying to dissuade them from participating in the custom, encouraging them to instead keep the girls in school.
A third of all marriages amongst Syrian refugees living in Jordan include at least one partner who is under 18 years of age, according to AJ+. And more than 700 million women in the world were married before turning 18, according to a UNICEF report.
Through acting and drawing, Hoshan managed to convince a number of girls not to marry underage, which encouraged her to expand her activism, UNHCR explains. 
"My dad tells me that I started something good and I should continue what I am doing," Hoshan told Mashable. "I want to go to university and study to be a lawyer so that I can defend the rights of women and girls."
Pakistani activist Malala Yousafzai, who champions girls education and survived an assassination attempt by the Taliban, is a source of inspiration for the young Syrian.
"My mum brought me Malala's book, so I've read all about her life and work. She is a great person and very inspirational," Hoshan said. "I wish all the girls in the world could be like Malala."
Learn more about Hoshan here: