HealthTap Lets You Ask Real Doctors About Your Weird Health Issues Via Facebook Messenger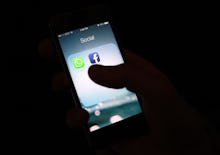 On Tuesday, telemedicine startup HealthTap rolled out a feature that can help you sidestep the horrifying consequences of WebMD-ing your vague and mysterious health problems.
Users can send a health inquiry to the the startup via Facebook Messenger and their chatbot will either get an answer from its database instantly, or seek an answer directly from its network of 100,000 doctors in less than 24 hours. Just like WebMD, the service is free for database questions.
"We want to make sure we're there for people when it's convenient for them," Ron Gutman, CEO of HealthTap, told BuzzFeed. "You don't need to open (another) app or go to a website. It's like having a discussion with your mom. You ask a question to a doctor and get an answer back."
The new feature isn't trying to replace doctors, but it wants to be an educational resource for questions, like if mixing alcohol and a certain medication will cause adverse effects.
It sounds like a good theory, but in a Cosmopolitan article, Elizabeth Narins wrote that she had major trouble asking about a freckle being cancerous. After being forced to include a question mark so the bot would know she was asking a question, she got very few answers that were actually related to the aforementioned freckle.
Read more: This New App Wants to Give You Sex Advice You Actually Need