We Are All This White Girl Who Accidentally Got Jeremy Lin's Name Tattooed in Chinese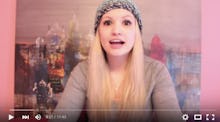 Meet Holland Christensen.
A few months back, the Tennessee native and self-described "educated" person decided to get a tattoo inspired by her love for traveling and languages.
After some deliberation, she decided on something in Chinese, according to the 12-minute video confessional she posted on YouTube in April:
Christensen did not say what phrase she thought she was tattooing on her body. But she admitted to relying on the last source anyone in her position should ever, ever consider for an English-to-Chinese translation:
"Someone on the Internet."
Christensen ended up with the following ankle tattoo:
And after asking around a bit, she uncovered the real meaning of the words she now has permanently imprinted on her body: 
"Jeremy Lin."
Yes. That Jeremy Lin:
It might surprise you to learn that Holland Christensen had no idea who "Jeremy Lin" was. 
After some research, she learned that he is a professional basketball player with the NBA's Charlotte Hornets, and a really nice guy.
And so, having little other choice, Christensen decided, in her own words, to "accept it and own it and learn about [Lin] and become his biggest fan."
Christensen and Lin have a lot in common, it turns out. Both, for example, apparently failed their driver's license tests because they were driving too slow:
Christensen eventually came to Lin's attention via the Internet. She ended up going to a Hornets game, though sadly, she was unable to meet Lin at the time.
But Lin sent her a special message shortly thereafter:
Christensen seems to have made peace with her mistake.
After all, Jeremy Lin is far from the worst person whose name you could get tattooed on your body.
But it should go without saying: Please don't try this at home. It's almost a guarantee your luck will not be this good.
Watch the full video here:
h/t Angry Asian Man/ESPN