8 Times Female Celebrities Brilliantly Shut Down Sexist Interview Questions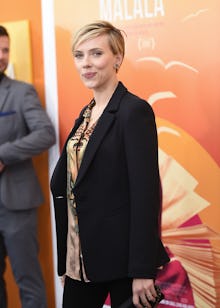 It's the 21st century and sexism in Hollywood is alive and well. 
"The concept of diversity needs to include women, not be a separate topic," actress Geena Davis told USA Today in March. "Films and television do not reflect the real, diverse world — and the world is 51% female."
The sexism is easy to spot — just turn on your television or open a magazine to see the questions posed to female celebrities that aren't usually given to their male counterparts. 
And some women are not taking these questions sitting down (literally and figuratively, because some interviews are seated). Below are eight times female celebrities shut down totally sexist questions.
Read more: 7 Anecdotes From Female Artists Show How Deep Sexism Runs in the Music Industry
1. Anne Hathaway 
In 2012, when interviewing for her role in The Dark Knight Rises, Hathaway was continuously prodded by a male reporter on her "feline fitness regime" that helped her prep for the role's action-packed scenes. Instead, she flipped the table on the male reporter, asking him if he's trying to lose weight. "No, no, seriously, we have to talk about this," she said, almost mockingly. 
2. Scarlett Johansson 
A similar scenario happened to frequent superhero actress Scarlett Johansson. When taking questions at a press conference with costar Robert Downey Jr., a reporter asked two questions, one for each. The question to Downey Jr. was about maturity and character development, while the one for Johansson was about her diet and getting "into shape for Black Widow." Johansson responded back with, "How come you get the really interesting existential question, and I get the like, 'rabbit food' question?"  
3. Alice Eve
For her role as Carol Marcus in Star Trek Into Darkness, Eve was asked in an interview if she was "a little bit too beautiful to be a science officer?" To this, she said, "I didn't know that those things were mutually exclusive," aka, the truth.
4. Keira Knightley
After winning a Hollywood Film Award for her role in The Imitation Game, Knightley was asked the age-old question of how she balances her career and personal life. "Are you going to ask all the men that tonight?" she replied. 
5. Lauren Conrad
Former reality star-turned-entrepreneur Lauren Conrad was actually asked on-air during a radio interview about her favorite sexual position, according to Business Insider. Conrad wittingly replied, "CEO."
6. Scarlett Johansson... again
Johansson just can't catch a break. In 2012, Johansson was asked about what undergarments she had on under her costume for the Avengers. She mockingly replied, "Overalls, you wear dungarees," then asked the male interviewer if he asked her male coworker the same question. "What kind of interview is this?" She said. Unfortunately, the male interviewer didn't quite get why she was upset over the question and pondered, "Is it inappropriate?" 
7. Ariana Grande
During a radio interview in November, Grande was asked if a girl could last longer without her phone or makeup, according to Billboard. Grande schooled him by saying, "You need a little brushing up on equality."