'Birth of a Nation' Trailer Will Meet the Quota for Your Weekly Chills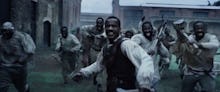 Birth of a Nation, actor Nate Parker's directorial debut, took the Sundance Film Festival by storm and walked out with a $17.5 million distribution deal. Now, audiences can get their first look.
Read more: The Powerful Reason Gabrielle Union Has No Lines in Sundance Hit 'The Birth of a Nation'
Fox Searchlight released the teaser for the film Friday, giving the public a peek at the first frames of the Sundance audience award and grand jury prize-winning film. With a projected theater release date of Oct. 7, Fox Searchlight seems to be banking on the film's Oscar prospects next year at the 89th Academy Awards.
Despite sharing the same title as D.W. Griffith's 1915 KKK propaganda film, Parker's Birth of a Nation tells a very different story — although the reference to Griffith's film is "purposeful," according to the Hollywood Reporter.
Parker's Birth of a Nation centers on Nat Turner, the leader of a violent slave rebellion in Virginia in 1831. The film was written, directed, produced and also stars Parker as Turner. The actor reportedly quit acting for two years in order to raise money and complete this passion project. The cast also includes Gabrielle Union, How to Get Away With Murder's Aja Naomi King, Oscar-nominee Jackie Earle Haley and The Social Network's Armie Hammer.
Watch the teaser trailer, aptly featuring Nina Simone's rendition of Billie Holiday's "Strange Fruit," below:
h/t the Hollywood Reporter
April 15, 2016 10:39 p.m. EDT: This story has been updated.