Pope Francis Just Invited 12 Syrian Refugees to Live in the Vatican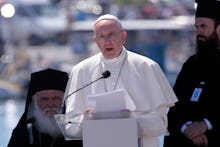 In a sharp statement on the world's response to the more than 1 million migrants to arrive in Europe since the beginning of 2015, Pope Francis took 12 Muslim refugees back to the Vatican with him following a trip to the island on Saturday.
The pontiff took back three Syrian refugee families — "two from Damascus and one from the eastern city of Deir al-Zour" — whose homes were destroyed in air strikes during the conflict, according to the New York Times. A Vatican statement issued to the paper called the relocation a "gesture of welcome regarding refugees."
The Times also reported the pope spoke at a refugee camp on the island of Lesbos, where he called the migration situation a "grave humanitarian crisis ... we hope that the world will heed these scenes of tragic and desperate need, and respond in a way worthy of our common humanity." He was joined by the leader of the Eastern Orthodox church, Ecumenical Patriarch Bartholomew, who told the crowd "the world will be judged by the way it has treated you. And we will all be accountable for the way we respond to the crisis and conflict in the regions you come from."
"The Mediterranean Sea should not be a tomb."
The Guardian called the pontiff's move a "rebuke to the EU's policy of sending migrants and refugees back to Turkey." Since Germany first welcomed thousands of migrants to applause, supplies and aid in September, the situation for refugees has rapidly worsened as public and official resentment against them has grown and two terror attacks linked to ISIS hit Paris and Brussels, Belgium, killing over 160 people and wounding hundreds.
In Greece, Hungary and elsewhere, ill-treated refugees scheduled to be deported have clashed with riot police. Right-wing demonstrators stormed a memorial service for the victims in Brussels in March.