"I Am," a Poem by a 10-Year-Old Boy With Autism, Is Going Viral and Spreading Big Emotions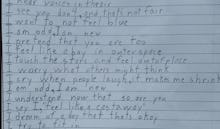 Poetry class in elementary school just got a lot more real. 
The National Autism Association shared a poem by a 10-year-old boy living with autism spectrum disorder on its Facebook page, and it's making a lot of people very emotional. 
The boy, Benjamin, received an assignment to write a poem using sentences beginning with the words "I am." 
His poem reads as follows: 
I am odd, I am new
People in the comments have given some very emotional and supportive responses:
Benjamin's poem gives insight as to what it's like to live with autism, which affects 1 in 68 kids nationwide. In October 2015, Sesame Street introduced an autistic character living, Julia, to help children, both with and without autism, to better understand autistic behavior.