Cirque du Soleil Cancels All North Carolina Shows in Response to Anti-Trans Legislation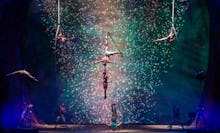 Cirque du Soleil is canceling all of its North Carolina performances for the rest of the year, joining Bruce Springsteen, Bryan Adams and Ringo Starr on the list of artists amending their tours in protest of the state's recent controversial anti-trans law.
House Bill 2, also known as the Public Facilities Privacy and Security Act, was signed into law by North Carolina Governor Pat McCrory in late March. The legislation explicitly bans people from using bathrooms that don't correspond with their biological sex, and has outraged the state's transgender community and its advocates throughout the country.
In a bulletin posted on Facebook, the Canadian company, which employs over 5,000 people, called HB2 "an important regression to ensuring human rights for all," and announced that all remaining shows scheduled for 2016 in North Carolina would be cancelled.
"Cirque du Soleil believes in equality for all. It is a principle that guides us with both our employees and our customers. We behave as change agents to reach our ultimate goal of making a better world with our actions and our productions," the announcement reads.
In its statement, the company offered its North Carolina customers full reimbursements for their tickets, and wrote "[Cirque du Soleil] look[s] forward to performing in North Carolina when this issue is addressed."