Bark'N'Borrow Is the Tinder for Dogs You've Been Dreaming Of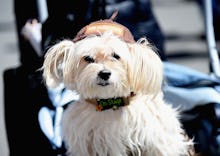 Imagine you're using your favorite app to find a companion for the evening. You're not looking for anything too serious — after all, you're pretty sure you aren't ready for a long term commitment just yet, but some playful cuddling never hurt anybody. Too small, you think to yourself as you peruse through profiles; too hairy. And then, your heart stops, and you know you've found the one: Cowboy, a 1-year-old shelter dog from Los Angeles.
Bark'N'Borrow is a company whose stated mission is to "better the lives of dogs by giving them as much love and attention as possible." The app pairs dog owners with dog lovers to create a shared community of canine caregivers, whether the user's interest is finding a dogsitter or spending a few hours with a new furry friend — no strings attached.
Users interested in "borrowing" a pup can link up with owners who are willing to loan them their four-legged friends for short time periods (for anyone with a full-time job or a hectic social life, it's easy to imagine the benefits of finding a trustworthy petsitter). 
On the other side of the fence, users whose leases, careers, lifestyles or roommates prevent them from a full-time canine commitment get to spend one-on-one time with precious pooches without the burden of permanence.
And thanks to Bark'N'Borrow's recent partnership with LA-based shelter No Kill Los Angeles (NKLA), those browsing the app now have the option to go on a "doggy date" with pets looking for a forever home. The even better news? According to a survey of 650 Bark'N'Borrow users conducted by the company, over 85% of respondents said that they would get their first/next dog from a shelter. 
With the help of Bark'N'Borrow, dogs can hope to find love, companionship and a permanent home, without any of those things feeling far-fetched.