NC Trans Student Says College GOP Threatened Her, Called Her a "Mentally Ill" "Freak"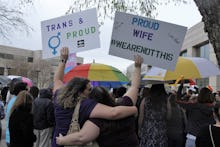 A transgender North Carolina resident and the University of North Carolina College Republicans are currently battling it out over an alleged conversation that took place between the two parties when the student approached the group to organize to repeal the state's recently passed anti-trans law, House Bill 2. 
The student posted screenshots of the alleged conversation on Reddit, and it eventually made its way to Imgur, as well.
In the screenshots, the student tries to explain that HB2 does not protect women, and is rather an attack on the transgender community. The UNC College Republicans Facebook account responds, noting that "if you are a male, then you have no business in the women's room," and later adding, "if a tranny like you goes into the women's restroom, then what about the rights of them?" 
In the images, after the student tries to explain that she doesn't deserve the vitriol, the UNC College Republicans calls her "sick and disgusting" and a mentally ill man. 
The UNC College Republicans account then says that they would make sure that "you trannies do not molest our daughters and sisters." 
According to a response from the UNC College Republicans, the conversation never happened and the group has a diverse range of views on HB2. The group posted the following statement on their Facebook page Saturday afternoon:
"We at UNC College Republicans are shocked and disgusted by this false and slanderous attack. We never condone the type of vicious and discriminatory language we have been accused of using. Our organization has a diversity of views on House Bill 2, and has taken no official position on the issue. The screenshots featured in the article are patently false and fabricated."
In the comments of the Reddit post, people expressed disgust and surprise that the conversation became as hateful as it did. 
The UNC College Republicans has begun personally responding to some commenters on Facebook; the group denies denies it was behind the bigoted statements attributed to it online and maintains the images must be fakes.