Iraqi Man Thrown Off Plane for Speaking Arabic, Demands Apology From Southwest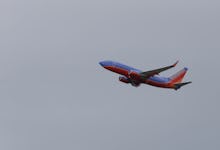 An Iraqi-born refugee thrown off a Southwest Airlines flight wants the airline to apologize for singling him out.
26-year-old University of California, Berkeley student Khairuldeen Makhzoomi says he spoke Arabic on the phone with his uncle while his plane waited to take off from Los Angeles International Airport, SFGate reported. Soon after, he says, a female passenger looked at him and left her seat; moments later, Southwest Airlines employees told him he must leave the plane.
Security and police officers questioned him upon exiting the aircraft, then called in the FBI. Makhzoomi was then questioned further and subject to a series of searches and a pass by police canines. "This is what Islamophobia looks like," Makhzoomi told the officers, according to SFGate.
Southwest Airlines later refunded his ticket, though it told SFGate its employees had made a "collaborative decision rooted in established procedure" regarding "potentially threatening comments made aboard our aircraft."
According to NBC News, Makhzoomi fled Iraq in 2002 after dictator Saddam Hussein's regime killed his father and recently attended "a dinner at the Los Angeles World Affairs Council with Secretary-General of the United Nations Ban Ki-moon."
Instead of money, he told NBC, "All I need is an apology, to say 'We are sorry we singled you out because [of] one person who felt threatened.'"
Following terror attacks in San Bernardino, California; Paris; Istanbul; and Brussels, Belgium, Islamophobic sentiment has risen in both Europe and the U.S. — an atmosphere of distrust made worse by certain Republican candidates' discourse on the presidential campaign trail.
"Since 9/11, we've seen a steady increase in anti-Muslim bias and dissemination of fear about Muslims in the United States. That trend has really spiked during this current electoral season," UC Berkeley associate professor of anthropology Charles Hirschkind told the Daily Californian. "Candidates have said things like 'Muslims should not be allowed to immigrate to this country' ... These kinds of statements really ramp up both the level of fear and also the level of bias and prejudice and racism that Muslims face."