Earthquake in Japan Kills at Least 32, Floods Fukuoka Streets With Strange Foam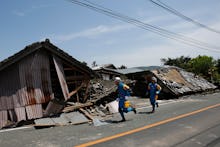 Rescue efforts continue around the clock in Japan following a series of major earthquakes that have killed dozens.
According to CNN, the Kumamoto Prefecture disaster management office has confirmed that a magnitude 7.0 earthquake in Kyushu, Japan's furtherst southwest major island, early Saturday has left at least 32 dead. An additional 23 people are buried inside buildings and waiting to be rescued as of Saturday evening.
"We're racing against the clock," Prime Minister Shinzo Abe told reporters. "[We] will provide more personnel if necessary."
In the Tenjin area of the city of Fukuoka, a mysterious foam bubbled up and filled the streets shortly following the earthquake, Mashable reported.
Photos and videos on Twitter show what appears to be entire city blocks covered by the dense, wet substance. In some places, piles of the foam stood several feet tall.
In Oct. 2015 a substance similar in appearance frothed up from a river in Bangalore, India, covering streets and bridges, although the cause in that case was clearly toxic chemical contamination in the local river. According to Mashable, the source of the leak in Fukuoka has not yet been determined, though guesses include broken utility lines and fire-extinguishing foam.
Days earlier, a 6.2-magnitude earthquake struck Kyushu, killing nine, according to CNN. Combined, the two quakes injured an astonishing 968 people. Additionally, dozens of smaller aftershocks have further rocked the province.
h/t Mashable