Magnitude 7.8 Earthquake Strikes Ecuador, Killing Hundreds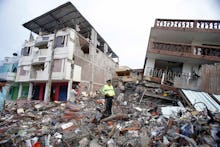 Dozens are dead following a major earthquake along the northwestern coast of Ecuador, NBC News reported on Sunday.
Vice President Jorge Glas said at least 233 people died and at least 600 others were injured as the magnitude 7.8 earthquake struck at 8:00 p.m. Eastern on Saturday night, with states of emergency declared in "Esmeraldas, Los Rios, Manabi, Santa Elena, Guayas and Santo Domingo." According to NBC, tremors reached the capital of Quito some 100 miles away.
Photos from Ecuador showed massive damage to cities and towns. Many buildings stood at odd angles with floors crushed or collapsed, and cars totally destroyed by debris lay on the streets.
"This is a very painful test," President Rafael Correa said, reported the BBC. "I ask the country to be calm and united... Let's be strong; we will overcome this. 
"Roads and hospitals can be rebuilt; you cannot recover lost lives. That's what hurts the most."
Ecuador lays along the Ring of Fire, a 40,000-kilometer "horseshoe of seismic activity" stretching from east of the coast of Australia through Southeast Asia and Japan to the West Coast of the U.S. and South America, the Guardian reported. According to the BBC, "there have been seven 7.0 magnitude or greater events within 250 kilometers of this latest tremor since 1900."
Update: April 17, 2016 at 11:32 a.m.
This post has been updated to reflect a higher official number of casualties.