Chrissy Teigen and John Legend Just Welcomed a Baby Girl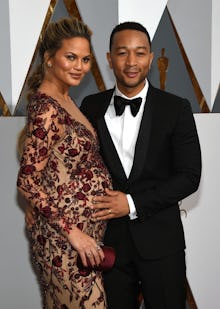 For the past nine months, we've been tracking Chrissy Teigen's pregnancy journey. We laughed at her bawdy baby shower, tweeted praying-hands emojis when she discussed her struggles conceiving with partner John Legend and cheered her on when she lashed out at busybodies who criticized her pre-partum dietary choices. Now, that journey has finally come to an end.
On Sunday morning, Teigen announced the birth of her daughter Luna Simone Stephens on Instagram. 
"She's here! Luna Simone Stephens, we are so in love with you! And sleepy. Very sleepy," Teigen wrote in the photo caption. 
Legend confirmed his daughter's birth on Twitter:
The 30-year-old model and professional over-sharer has been open about the details of her pregnancy on social media since she first revealed that she was expecting on Instagram back in October.
"We've been trying to have a baby for a while now," Teigen, who had previously discussed her struggles conceiving on Tyra Banks' now-defunct show FABLife, wrote on Instagram. "It hasn't been easy, but we kept trying because we can't wait to bring our first child into the world and grow our family. We're so excited that it's finally happening." 
Since then, Teigen has broadcast the details of her pregnancy on social media, revealing in February that she received in-vitro fertilization (IVF) treatments during her Sports Illustrated cover shoot and that she selected the gender of her baby in the process.
"Not only am I having a girl, but I picked the girl from her little embryo. I picked her and was like, 'Let's put in the girl,'" she told People in an interview. 
Now that Teigen and Legend have finally welcomed their first child together, we can likely still look forward to the couple sharing their first-time parenting experiences on social media. Up next: late-night diaper change livetweets and the obligatory breastfeeding selfie on Instagram. 
h/t US Weekly