Ariana Grande's "Let Me Love You" Feat. Lil Wayne Leaks Online — And Fans Are Losing It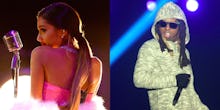 As fans await Ariana Grande's highly anticipated upcoming album Dangerous Woman, one song titled "Let Me Love You" featuring hitmaker Lil Wayne appeared to leak online Sunday morning, just after the 22-year-old teased the track list across social media the night before. In the leaked version of the song, Grande sings in her famous falsetto about being in the midst of a breakup, while her rap counterpart croons "goodbye to the good girl."
"I just broke up with my ex, now I'm out here single/ I don't really know what's next, but I ain't even tripping, I'ma chill and sit back/ I know they'll be coming from the right and the left, left, left," Grande opens the song singing. The singer typically keeps a low profile surrounding her relationships, though her previous eight-month romance with Big Sean fizzed out last year.
"I say girl you need a hot boy, she say you need to stop fucking with them thots, boy/ I say you need a real nigga, she say yes lord, and what you need your ex for I'm Triple X lord," Lil Wayne raps. 
The song also features a steady beat, interspersed vocals and a heavy focus on contemporary R&B stylings. Grande fans, or "Arianators" as the rising pop star has affectionately dubbed them, were praising the song Sunday morning, demanding their queen release the full album ahead of its May 20 release date:
Below is the full track list for Dangerous Woman:
"Moonlight" "Dangerous Woman" "Be Alright" "Into You" "Side to Side" Feat. Nicki Minaj "Let Me Love You" Feat. Lil Wayne "Greedy" "Leave Me Lonely" Feat.  "Everyday" Feat. Future "Sometimes" "I Don't Care" "Bad Decisions" "Touch It" "Knew Better / Forever Boy" "Thinkin Bout You"