'SNL' Slams Kim Davis, "Religious Freedom" Advocates in 'God Is a Boob Man' Trailer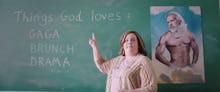 A new Saturday Night Live parody trailer takes aim at the recent wave of homophobia that's swept the United States under the guise of religious freedom advocacy.  
The clip is seemingly in response to the rash of recent anti-gay legislation in America, from North Carolina's recent passing of a bill banning transgender individuals from bathrooms that correspond to their gender identity, to a Mississippi law that allows religious organizations and private companies to legally deny services to people based on their sexual orientation.
The fake trailer for God is a Boob Man, which aired during the sketch show's April 16 episode, is also set up as a near shot-for-shot remake of the recent real-life release, God's Not Dead 2. 
In the spoof trailer, small-town baker Beth (Vanessa Bayer) is living a happy-go-lucky existence until a gay couple walks into her bakery and tasks her with baking their wedding cake.
"A story of liberal elites run wild," says the tongue-in-cheek narration over shots of Beth crumbling an egg clumsily in her hand over a mixing bowl, cartoonishly unsure of how to bake a cake for a couple whose lifestyle she so vehemently disagrees with.
The couple's lawyer ("Shmuel, from the ACLU") tells Beth that all she needs to do is utter the words "God is gay" in order for his clients to drop the case.
"They say we're bigots, but Christians are the most oppressed group in this country," Beth says emphatically to her bakery coworker, played by Sasheer Zamata.
"Maybe..." Zamata, an African American woman, replies skeptically. 
Without naming them directly, the clip directly addresses the discriminatory legislation passed in states like Mississippi and North Carolina during a scene in an unnamed governor's office, where a cabinet meeting is in progress.
"Governor, we are the poorest state in the country, second in obesity, third in teen pregnancy... We have to do something," one official says.
Enter Beth, who loudly announces that she wants to "deny basic goods and services to gay people," as the soundtrack grinds to a halt. 
"Everybody out... this is the priority now," says the governor.