Bernie Sanders Supporters Toss Money at Hillary Clinton's Motorcade En Route to Fundraiser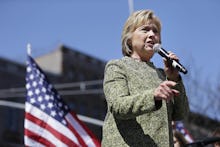 Supporters of Vermont Sen. Bernie Sanders showered competing presidential candidate and former Secretary of State Hillary Clinton with money as her motorcade passed by en route to a fundraiser at actor George Clooney's Los Angeles home on Saturday, NBC News reported.
Attendees at the fundraising event, which Clooney recently admitted charged an "obscene" but necessary amount of money, donated at least $33,400 each. A small group of key fundraisers who sat at a roundtable with Clinton, Clooney and his spouse, lawyer Amal Clooney, each paid $353,400.
According to NBC, those who threw the money were attending a counter-fundraiser at one of Clooney's neighbor's homes.
The bills flitted in the air as four black SUVs drove by, with one nearby protester holding a sign saying, "Goldman Sach's <3's Hillary." Another sign read, "Big Oil 4 Hillary — We Fracking Love You!"
Sanders has targeted Clinton over the fundraisers, telling ABC's This Week with George Stephanopoulos he had raised funds "very differently," with over seven million individual campaign contributions.
"I'm trying to set a high bar," he added. "I'm trying to be a leader."