You Can't Legally Smoke Weed in Colorado Hotels, So This Man Started a "Bud and Breakfast"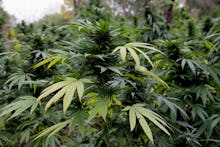 Upon realizing that the same Colorado laws that prohibit smoking cannabis inside hotels had created a market for pot-friendly lodging, entrepreneur Joel Schneider saw green — in the form of dollar signs. 
Schneider and his wife, Lisa, had moved west in 2012 to ride the wave of opportunity Colorado's legalization of marijuana had generated. Realizing an opportunity to marry their love of cannabis with their longtime dream of opening up a bed and breakfast, the couple quickly dreamed up the ultimate stoner retreat: a "bud and breakfast."
The chain of hotels, which first launched in 2014, is a quickly growing franchise. The couple has opened locations in Denver, Colorado Springs and Silverthorne, and is one of the only bed and breakfast facilities in the country that caters specifically to marijuana enthusiasts.
The Grateful Dead-themed Silverthorne location boasts a "bud bar," where patrons can enjoy free samples during happy hour (which starts at 4:20... obviously). Bud and Breakfast's official website also advertises "Wake and Bake Breakfast", where, "...eggs are cracked and bowls are packed as guests gather in our sunny, communal dining area". 
Snowboarders and skiers who choose the business based on its proximity to nearby mountains can unwind after a long day of shredding guilt-free (since cannabis use is illegal in traditional hotels and lodges).
If a Colorado getaway filled with snowy slopes and heady bong rips is your idea of a good time, a stay at a Bud and Breakfast location is something you won't want to puff puff PASS UP.