Philippines Presidential Candidate Rodrigo Duterte Joked About Murdered Rape Victim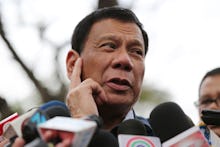 Philippines presidential frontrunner Rodrigo Duterte is being condemned by his fellow politicians after a YouTube video surfaced of the former Davao City mayor's comments about the 1989 rape and murder of Australian missionary Jacqueline Hamill.
According to the Australian Broadcasting Corp., in the since-removed video, Duterte says, "They raped all of the women ... There was this Australian lay minister ... when they took them out ... I saw her face and I thought, 'Son of a bitch. What a pity ... they raped her, they all lined up. I was mad she was raped but she was so beautiful. I thought, the mayor should have been first," using "the mayor" to refer to himself.
Read more: 5 Ways Rape Culture Sneaks Into Your Everyday Life
In an open letter to Duterte, rival candidate and Philippine Vice President Jejomar Binay wrote, "You are a crazy maniac who doesn't respect women and doesn't deserve to be president." President Benigno Aquino's spokesman Herminio Coloma has said the comments demonstrate an "utter lack of respect for women" and make Duterte unfit for the presidency.
ABC reported that while some of Duterte's supporters have dismissed the remarks as a joke, in subsequent interviews, Duterte has been adamant that he wasn't kidding. According to Time, Duterte told reporters he spoke out of "utter rage" and that he was caught up in the "heat of anger." 
Time wrote that Duterte has made frequent headlines for distasteful comments: calling Pope Francis the "son of a whore" in a speech, making crass comments about his Viagra use and talking about "hanging criminals by clotheslines" and dumping their bodies into Manila Bay — remarks that are particularly troubling considering the presidential candidate has admitted to killing 1,700, confirming for some rumors of an alleged "Duterte Death Squad." 
Some media outlets have referred to Duterte as the "Donald Trump of the Philippines," but Duterte thinks it's a misnomer. "It's one thing to be loudmouth but another to be a bigot," he said.