Brazil President Dilma Rousseff Impeached by Lower House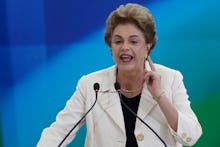 Mired in an ongoing corruption scandal, Brazilian President Dilma Rousseff was formally impeached Sunday night by the lower house of Brazil's legislature, the chamber of deputies.
The issue at hand for Rousseff, Brazil's first female president, is her involvement in a financial scheme that involved using money from state banks to mask the nation's budget deficit in order to improve her own chances of re-election in 2014.  
Read more: 13 Photos Of the Massive Anti-Corruption Protests Rocking Brazil
According to the New York Times, 367 of the chamber's 513 deputies voted for impeachment, well north of the two-thirds threshold of 342. The case now moves to the Senate where a simple majority of its 81 members are required for the case to move to trial. If the Senate takes the case, Rousseff would temporarily step aside during their deliberations. It would require another two-thirds vote from the Senate to ultimately oust her from power.  
Should she be removed, Rousseff, whose approval rating has dropped below 8%, would be replaced by her vice president, Michel Temer. Temer, a constitutional law expert, has also called for impeachment in recent days. 
"Politicians know how to read society pretty well, and they can sense that the people want her out," Paulo Sotero, the director of the Brazil Institute at the Woodrow Wilson International Center for Scholars, told the Times. 
Brazil's democracy is young with the country only emerging from two decades of military dictatorship in 1985. Its present leaders, Rousseff, a former Marxist guerrilla and her predecessor, Luiz Inácio Lula da Silva, played a direct role in toppling the former regime. 
The new elected politicians of the country's government, however, have faced their own problems with a sagging economy and a scandal that saw dozens indicted for siphoning money from state industries into political campaigns. Eduardo Cunha, the leader of the lower house and its crusade to impeach Rousseff, is himself under indictment. Cunha is third in line for the presidency after Temer. 
Rousseff has never previously been implicated in corruption and many of her allies on the left called the the move by the lower house, a "coup."
"The fight is going to continue now in the streets and in the federal Senate," Jose Guimaraes, the leader of Rousseff's Workers' Party in the lower house told Reuters. "We lost because the coup-mongers were stronger."
The political crisis comes at a challenging time for Brazil. In addition to its economic woes, the country is preparing to host the 2016 Olympics in Rio de Janeiro, while also confronting a growing Zika virus outbreak.