Gay Couple Gets This Disgusting Response to Their Wedding Invitation, DGAF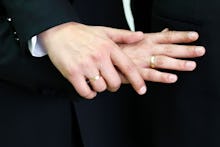 Chad Michael and Keith Alan were a month away from marrying in Canton, Ohio, when they received a hate-filled RSVP. The letter, dropped at their home in an unmarked envelope, was sinking hearts with its opening line alone:
"Just wanted to let you both know, you have sent an invitation to the wrong people."
Shit. Here we go.
"You thought we supported you as a couple well boys you were so wrong!" the homophobic rant continued. "It's not normal for 2 men to marry. What is wrong with you? It's a sin!!!!! Some of your friends are only coming to your so called wedding to help in the protest."
The response also alleges the couple's invitations to the New Vision United Church of Christ, which local news outlets report is a self-described "open and affirming congregation of the United Church of Christ," have been forwarded to anti-LGBT group in the area, which the letter writers claimed would be in attendance. 
Luckily, none of this has put a damper on the couple's exciting day — in fact, if anything, they say it's all the more reason to move forward in tying the knot. 
"I opened it up, I saw it, I read it and I was like, 'It's almost got to be a joke, it doesn't seem real,'" Keith told local television station WOIO. "I never even thought about canceling and quite frankly, other than our initial shock of the letter this made us both want to do it more."
According to WOIO, the couple is holding the wedding the same day they had always planned, at the same exact church — which, by the way, is on private property and therefore any protesters they will be denied entrance. WOIO reported one of the invitations had been sent to a wrong address on Facebook, which likely explains why the couple received the closed-minded and vitriolic reply. 
"But, but, but... same sex marriage is unnatural," one commenter wrote in a Facebook comment. "It says so in this book where serpents talk, virgins give birth and carpenters walk on water." 
Another response read: "So these people don't believe in same-sex marriage, fine. They are entitled to their opinion, but they have no right to trample on this couple's rights and ruin their wedding day with their hate-filled rhetoric."
Read more: A List of Every Artist Who's Taken a Stand Against North Carolina's Anti-LGBT Bill