This Japan Earthquake 2016 Video Shows the Devastation From a Drone's Point of View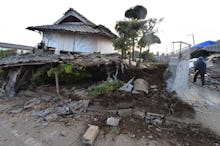 A drone flying over the secluded towns of Mashiki and Minamiaso, in the Kumamoto Prefecture on the southwestern island of Kyushu in Japan, provides footage of the almost inaccessible aftermath of two major earthquakes that hit the island last week, according to the BBC.
CNN reported Saturday the quakes left 41 dead and 968 injured.
The video shows the affected landscape of broken roads, fallen trees and large shifts and cracks in the terrain.
"We don't know what is happening in the whole disaster area because it is a remote mountain area and some big bridges were down and many landslides were found, so we were working around the clock and are making assessments," Nobuaki Sato, director of the International Relief Division at the Japanese Red Cross, said, according to CNN. "But so far the road access is not easy to the remote areas."
The first earthquake, which had a 6.2 magnitude, struck near Ueki on Thursday, followed by another tremor on Friday. On Saturday, a 7.0-magnitude earthquake struck the island again, burying many and causing streets to crack and a mysterious foam to arise.
Shigeru Morita, an official in Mashiki, said the earthquakes are "the worst thing that could happen to us," according to CNN. 
In the Kumamoto Prefecture, over 100 evacuation centers have opened and the Red Cross has helped over 1,000 people, according to CNN. 
Read more: Earthquake in Japan Kills at Least 32, Floods Fukuoka Streets With Strange Foam