Black Former 'Apprentice' Contestants Blast Donald Trump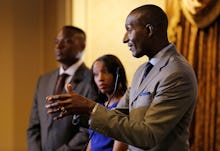 Donald Trump "fired" most of them. Now, they're firing back. 
Six black former contestants from Trump's reality TV show The Apprentice held a press conference Friday to denounce the Republican frontrunner's candidacy, citing his "racism," "divisiveness" and lack of temperament befitting a president.
"We stand united as former candidates on The Apprentice, not to denounce Donald Trump, the man, but to denounce Donald Trump, the presidential candidate's message," season four winner Randal Pinkett said during the press conference, according to NBC News.
The report said Pinkett and his fellow former contestants — James Sun, Kevin Allen, Kwame Jackson, Marshawn Evans Daniels and Tara Dowdell — hoped their voices would curb support for Trump, with the press conference held just days in advance of the New York primary election on Tuesday.
Predictably, Trump responded with a series of insults, calling his former protégés "six failing wannabes" who were salty because they no longer had the public's attention.
"They just want to get back into the limelight like they had when they were with Trump. Total dishonesty and disloyalty," Trump said in a statement, according to NBC News, which cited an Associated Press report.
The Trump campaign has cited the candidate's background as a businessman as his main qualification for public office. The 69-year-old's 11-year stint as host of The Apprentice and Celebrity Apprentice, reality TV shows where contestants competed in a series of business challenges for a chance to run one of Trump's companies, has helped cement his reputation as a business mogul even though, as Gawker recently pointed out, his business record is spotty.
"When you listen to some of his supporters, many of them will say they were huge fans of his from The Apprentice, that is one of the reasons they cite why he is qualified," Dowdell said, according to NBC News. "I disagree with that. I don't think that running a reality show is certainly the qualification for running for president."
Since Trump announced his candidacy in June, the real estate mogul has steamrolled all but two of the 16 other candidates in the once-verdant GOP field, bullying and insulting his way to the front of the Republican presidential race.
Trump has gained traction by trumpeting a slew of racist policies and beliefs. He infamously referred to immigrants from Mexico as "criminals" and "rapists," called for a "total and complete shutdown of Muslims entering the United States" — unless they are his wealthy friends, that is — and retweeted false statistics claiming 81% of white murder victims were killed by black people in 2014.
Still, other black Apprentice alums — like season one contestant Omarosa Manigault — continue to support him: 
What a time to be alive.