John Kasich Wishes LGBT People Would Just "Get Over" Discrimination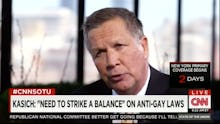 If only discrimination were as easy to push aside as Republican John Kasich's presidential campaign.
During an appearance on CNN's State of the Union on Sunday, the Ohio governor dismissed the outcry over anti-LGBTQ laws springing up in states across the country — North Carolina, Mississippi, Tennessee — saying those who face discrimination should take it in stride. 
"If you feel as though somebody is doing something wrong against you, can you just, for a second, get over it, you know, because this thing will settle down," Kasich said. 
Kasich argued government must balance the interests of religious people who oppose LGBTQ rights and those people who face discrimination.
"I just wish that everybody would just take a breath and calm down, because, you see, trying to figure out how to legislate that balance is complicated, and you keep doing do-overs, because nobody gets it right," he said. "So if we would just kind of calm down here, I think things would settle down. And what I like to say is, 'Just relax.'"
Despite billing himself as the moderate in the GOP presidential field, Kasich is no friend to the LGBTQ communities. In February, he said anti-LGBTQ discrimination is bad for businesses only to backtrack on his remark a week later. And though he doesn't want to repeal marriage equality, he opposes it. 
Kasich couched his remarks in terms of unity.
"As one of my daughters said, 'We're the United States — not the divided states,'" he said.
Watch video of the interview below:
The Kasich campaign did not immediately respond to a request for comment.