Hundreds Killed or Kidnapped After Raid in Ethiopia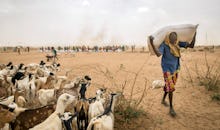 Hundreds are dead or missing in Ethiopia after assailants from South Sudan crossed the boarder on Friday and attacked. As Ethiopian forces continued to hunt for those responsible, the death toll from rose to 208 dead, with 108 missing children and more than 2,000 heads of livestock, Al-Jazeera reported. 
"Ethiopian defense forces are taking measures. They are closing in on the attackers," government spokesman Getachew Reda told the Guardian. 
Read more: Boko Haram's Chibok Girls Shown Alive in First Footage Since Kidnapping in 2014
Ethiopian troops are known to have crossed into South Sudan in pursuit. The exact origin of the attack and its assailants are unknown but at this time they are not believed to be connected to the South Sudanese government. 
Raids from South Sudan into the western Ethiopian region of Gambela are not uncommon. Past raids are believed to have been caused by arms rich Murle tribesmen in the country's Jonglei and Upper Nile areas, according to the Guardian.