New York Democratic Primary 2016: Latest Polls and What to Expect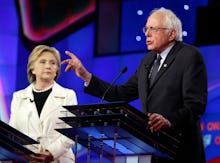 Will New York Democrats opt for their erstwhile celebrity senator or a Brooklyn-born brawler?
That's the question at the heart of Tuesday's Empire State primary, in which Hillary Clinton hopes to effectively put the kibosh on Bernie Sanders' presidential candidacy.
Boosted by a string of recent victories, Sanders has made an aggressive play for New York, hoping to outstrip Clinton on her home turf — an outcome that may well sow significant doubt about her candidacy among party elites, and could power Sanders to wins in delegate-rich states like Pennsylvania and California.
Read more: New York GOP Primary 2016: Latest Polls and What to Expect in the Republican Race
But polls show that Sanders faces an uphill slog on Tuesday. Clinton has led by at least 10 percentage points in most surveys, and she boasts a 53% to 41% lead over Sanders in the RealClearPolitics polling average.
Can Sanders outperform his polls? The Vermont senator's stunning victory in the Mar. 8 Michigan primary — where he overcame a double-digit deficit in the polls — serves as a cautionary tale for Clinton.
But a number of factors point to a good night for the former secretary of state.
Crucially, New York is a closed primary, meaning that only registered Democrats will be allowed to vote. That poses a hurdle for Sanders, who's struggled with Democrats but fared well with independents in open contests. As he cruised to a landslide victory in Wisconsin this month, Sanders crushed Clinton 72% to 28% among independents, but managed only to tie her with registered Democrats, according to exit polls.
New York also has a large share of racial and ethnic minority voters, with whom Sanders has lagged behind Clinton. Exit polls from 2008 indicated that 30% of Democratic primary voters were racial or ethnic minorities, and a strong turnout from black and Hispanic voters on Tuesday would presage a good night for Clinton.
Meanwhile, Sanders hopes to beat expectations among minority voters and drive an upsurge in turnout among working class whites in the upstate region and strongly progressive voters in enclaves like Williamsburg, Brooklyn.
Tuesday's primary will be the Democrats' most delegate-rich to date — the contest will proportionally award 247 delegates, and only the June 7 California primary (475 delegates) will apportion more.
Polls close at 9 p.m. Eastern.