One Tweet Points Out a Pretty Ugly Hypocrisy in Chris Brown's New Documentary Trailer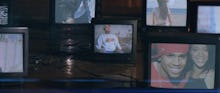 Get the five stories that will challenge you to rethink the world by signing up for MicCheck Daily.
Chris Brown seems to be really reaching for some sympathy in the new trailer for his documentary Welcome to My Life. One might say that, at times, he's flexing.
Brown's new trailer features snippets of the artist discussing how he felt after he pleaded guilty to beating his former girlfriend Rihanna, and in one he mentions he contemplated suicide. "I felt like a fucking monster," he says. "I was thinking about suicide and everything else. I wasn't sleeping, I barely ate. I just was getting high."
The words rang a little out of tune for anyone who's been following Brown's recent social media moves — namely, the one where he shamed Kehlani for sharing news about her suicide attempt with her fans. "There is no attempting suicide," he said at the time. "Stop flexing for the gram."
Read more: Chris Brown Humiliates Kehlani for Her Attempted Suicide in One Gross Tweetstorm
Twitter was all over that little double standard.
All those people who came to speak up for Kehlani, trying to remind to Brown that suicide is a major issue that affects thousands of Americans each year, have been left scratching their heads.
Watch the full trailer for Brown's Welcome to My Life below.