Migrant Boat Sinks in Mediterranean, 400 Refugees Feared Dead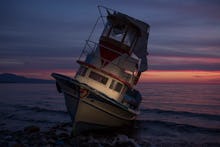 Several hundred refugees are feared dead after a boat capsized attempting to reach the coast of Italy, the nation's president, Sergio Mattarella, said Monday, according to the Washington Post.
Mattarella told reporters in Rome "yet another tragedy in the Mediterranean in which, it seems, several hundred people have died," seemingly confirming reports on BBC Arabic that roughly 400 people traveling on four boats from Egypt perished after the vessels capsized. The victims are reportedly mainly from Eritrea, Ethiopia and Somalia. News of the disaster broke almost precisely one year after around 700 migrants died off the coast of Libya following the capsizing of an overloaded fishing ship.
"What is sure is that we are again with a tragedy in the Mediterranean, exactly one year after the tragedy we had ... in Libyan waters," Foreign Minister Paolo Gentiloni told Reuters.
The tragedy strikes close to where the migrant crisis, which saw 1 million people arrive in Europe seeking refuge from war and poverty throughout 2015, began. When the crisis was first beginning to attract international attention in 2014, National Geographic noted Italy is "uniquely exposed in Europe because of its long, meandering coastline and numerous islands, is often seafaring migrants' point of entry into Europe. The country leads the continent in arrivals by sea, which, in the first quarter of 2014 alone, increased by 823% over the same period in 2013."
In 2016, the migrant crisis set a disturbing January record of at least 244 dead, "nearly three times the 82 people who died last January, and overwhelmingly more than the 12 people who died in January 2014," Al-Jazeera reported. By Feb. 9, the tally had shot to 409, with arrivals up tenfold compared to a year before. According to Newsweek, efforts to slow migration by increasing border patrols may have simply forced migrants into more dangerous routes.