New York GOP Primary 2016: Latest Polls and What to Expect in the Republican Race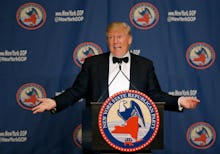 New York values Donald Trump — but how much?
The Manhattan real estate developer is a virtual lock to win the Empire State's Republican presidential primary in a landslide on Tuesday, but rivals Ted Cruz and John Kasich stand an excellent chance of denying Trump his optimal result: A sweep of New York's 95 delegates.
Here's how it works: Under the New York GOP's labyrinthine primary rules, the statewide winner automatically nabs 14 of those delegates, provided he wins at least 50% of the vote.
Read more: New York Democratic Primary 2016: Latest Polls and What to Expect
Polls show Trump is likely to clear that threshold, with the RealClearPolitics polling average showing the billionaire garnering 53% support to Kasich's 23% and Cruz's 18%.
Those rules could spell trouble for Trump in highly affluent and educated congressional districts based in New York City and its suburbs, which may prove fertile territory for Kasich, the center-right governor of Ohio. As the New York Times' Nate Cohn noted, demographic models suggest that Trump may actually lose those districts to Kasich or Cruz outright.
But Cohn pointed out that if Trump wins more than 50% of the vote statewide, that likely entails winning at least 75 delegates, or nearly 80% of those up for grabs on Tuesday.
To win the 1,237 delegates needed to secure the nomination before the GOP convention in July, Trump needs to win roughly 60% of the remaining delegates, according to the Associated Press.
Polls close at 9 p.m. Eastern on Tuesday.