Titus Andromedon Remains the Breakout Star of 'Unbreakable Kimmy Schmidt' in Season 2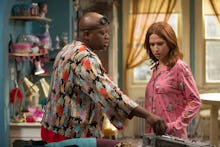 Few could resist the charms of Titus Andromedon (Tituss Burgess) after the first season of Netflix's comedy Unbreakable Kimmy Schmidt. It was easy to finish up a binge with "Peeno Noir," Titus' ode to black penis, stuck firmly in one's head. The role, created by former 30 Rock masterminds Tina Fey and Robert Carlock, even earned Burgess an Emmy nomination.
Read more: Five Years Ago, Netflix Announced They'd Make Their Own Shows — Here's How They've Done
But for all the character's charms, his plot was fairly thin last season. He was mostly a comic relief character, with hints of depths that would peek out. His wall of sarcasm, hardened by years living and failing in New York City, served as harsh counterpoint to Kimmy Schmidt (Ellie Kemper) and her relentless optimism.
This season, however, takes a much deeper dive into exactly who Titus Andromedon is. Now more than ever, he is the breakout star of Unbreakable Kimmy Schmidt.
(Editor's note: Spoilers ahead for the second season of Unbreakable Kimmy Schmidt.)
Make no mistake: Titus (and Burgess, for that matter) is still hilarious this season. His comic timing is just as sharp as ever, if not more so, and his references are whip-smart. 
"I once went to a Halloween party dressed as Nathan Lane Bryant," he says in the fourth episode of the season. "It was moderately well received."
But the difference is that he's not just funny. The series actually gives him a role beyond that, with deeper storylines to match. 
First, there's his wife, revealed at the end of season one. As his former self, Ronald Wilkerson, Titus married a woman and ran away just hours after the nuptials. The first episode of the season focuses on Titus first resisting any responsibility for wronging his wife — this after marrying her under false pretense and absconding before even their first dance as a married couple. 
Surprisingly, however, he then reconciles with her in a way that makes her feel special: finally giving her that dance.
After that story is resolved, in a way that makes Titus look not like a joke machine but a human, he strikes up a romance with a construction worker, Mikey (Mike Carlsen). In the first season, Mikey was a background character — he appeared in exactly one episode to facilitate a joke.
In season two, Mikey becomes Titus' perfect match: adoring of him, but different enough to challenge Titus to grow. Instead of just railroading Mikey into being the kind of man he wants him to be, Titus has to accept that they do have differences. Mikey likes sports and doesn't get Titus' theater references.
But then, when they bond over The Lion King, they make a truly special connection.
It's to Unbreakable Kimmy Schmidt's credit that their initial connection is not the end of the story. Titus is reluctant to let Mikey in, for fear of someone seeing beyond Titus' exterior — and not liking what they see. When he does let his guard down, Mikey falls for him even more, even proposing they move in together.
Then, in the season's penultimate episode, Titus gets a part on a cruise ship production of Mahogany, a resolution of another season-long plot about the budding actor reinvesting in his own career. It's a job that would take him away from home for four months, just as he and Mikey are set to move in together. He insists he won't go. Mikey tells him he has to take it.
"You'd risk losing me for me?" Titus asks Mikey, who nods in response. It's a moment of selfless love on both characters' parts that would have seemed impossible just a dozen episodes before. Titus didn't just entertain viewers this season — he actually grew as a character.
Titus Andromedon didn't just entertain viewers this season — he actually grew as a character.
Whether Titus and Mikey are meant to last into Unbreakable Kimmy Schmidt's third season or not, one of TV's most fresh, original characters underwent major changes this season. Burgess, Fey and Carlock together took a walking punchline factory of a character and made him wonderfully complex. 
In the process, they created something quite beautiful: one of the most potent gay love stories on TV. There's a lot to love about Unbreakable Kimmy Schmidt's second season, but that plot — and Titus himself — are what makes the series really special.