Hillary Clinton Gets Grilled on Beyoncé's Name, If She Really Has Hot Sauce in Her Bag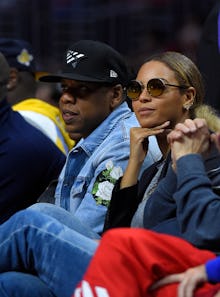 Hillary Clinton visited The Breakfast Club Monday, a morning hip-hop radio talk show, as one of her countless campaign stops throughout New York ahead of the state's April 19 primary. The former Secretary of State was hoping to drop the mic and win the hearts of young listeners nationwide, but encountered some tough questions during the interview, getting grilled on how she's mispronounced Beyoncé's name in the past, and whether she's pandering to black people by saying she carries hot sauce in her bag (swag) at all times. 
"We've had hearty discussions, a lot of black people feel like they don't trust you because you mispronounced Beyoncé's name," Breakfast Club host Charlamagne Tha God said Monday morning, causing Clinton to release a deep sigh. "Well, you just said it correctly, Beyoncé, right? You know what, I was really tired that day, what can I say?" Clinton replied.
"There are so many important things to think about when running for president," Clinton further explained of the gaffe. "I went to Michelle Obama's birthday party, and Beyoncé performed... She has the most amazing stamina, endurance, coordination."
At one point while Clinton was coughing, Charlamagne laughed and said, "Senator, it sounds like you've got some medicinal." "Yeah," Clinton replied, raising her eyebrows. "I need some." But her most revealing moment came when she was asked "What's something that you always carry with you?" — "Hot sauce," Clinton quickly replied. "Now I want you to know, people are going to hear this and say, 'She's pandering to black people,'" Charlemagne said. 
"OK, is it working?" Clinton jokingly replied, shrugging off the comment. "Seriously, I've been eating a lot of hot sauce, raw peppers and hot sauce ... I think it keeps my immune system strong." 
"That's why you're coughing, you may need to slow down," the hosts said laughing.