ISIS Leaked Documents Show Fighters May Be More Educated and Diverse Than You Realize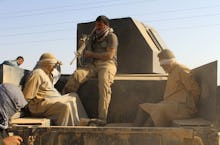 Get the five stories that will challenge you to rethink the world by signing up for MicCheck Daily.
On Monday, United States defense officials announced President Obama's decision to send 217 more troops to Iraq to fight the country's Islamic State group, or ISIS, increasing the total number of forces from 3,870 to 4,087. 
According to the New York Times, the additional troops will help Iraqi units as they attempt to take back the northern city of Mosul.
As the U.S. military increases its participation in the fight against ISIS, NBC News has obtained personnel files that may provide new insights into the terrorist organization. After reportedly receiving them from a Syrian man who told the outlet he stole them from a senior ISIS commander, NBC sent the data to analysts at the United States Military Academy at West Point who have called the files the "most significant" ISIS-related document yet.
Read more: Are You a 'Jihottie'? ISIS Wants You!
Brian Dodwell, deputy director of the military academy's Combating Terrorism Center, told NBC that among the most surprising findings is how educated many of the recruits are. According to the report, one-third attended high school and one-quarter attended college — some reporting PhDs, masters and MBAs — while just 17% of the 4,000 fighters said they stopped their education after elementary or middle school. Nearly three-quarters of fighters, according to the documents, have a limited understanding of Islamic law.
While the media has reported that the terrorist group is increasing its efforts recruit vulnerable populations of women and children, the documents show that the demographics of ISIS fighters vary in age, nationality and occupation.
Most ISIS recruits come from Saudi Arabia, Tunisia and Morocco, but there are some from further reaches like China, Iceland and Australia. Their ages range from under 15 to over 50, and many have previously held jobs as teachers, IT employees, beekeepers and even a Starbucks barista. 
Despite how often ISIS attacks include suicide bombers, it's also rare that these former white and blue collar workers join the extremist group for the sake of martyrdom: Only 12% of recruits checked off that they would like to be a regular fighter, a suicide fighter or a suicide bomber.
"They're selling this narrative of victory and sustaining," Dodwell told NBC. "Many of these individuals it would seem are buying into that message and are going into there to live — not die."