Chris Hemsworth Had the Best Response on 'Ellen' When His Daughter Said She Wanted a Penis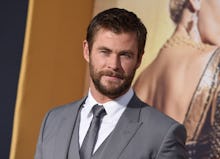 No patriarchal bullshit from Chris Hemsworth. In an interview on the Ellen DeGeneres Show, set to air later today, the Australian actor recalled an extremely woke moment he recently had with his four-year-old daughter India.
Read more: Justin Trudeau Doesn't Want a Cookie for Being a Male Feminist, OK? 
Indeed, it would seem Hemsworth's daughter took issue with the fact that her brothers have penises and she doesn't. 
Hemsworth attempted to explain that there are certain anatomical differences between her and her brothers, such as the fact that "girls have breasts." But India, who is apparently wise beyond her years, was not satisfied with this answer. 
"She was like, 'I really want one... I want a penis!'" Hemsworth said. "I was like, she's 4, you know what, you can be whatever you want to be. And she goes, 'Thanks dad!' Runs off to the playground and that was it. So I'll have to keep that conversation up in a few years' time." 
Earlier in the interview, Hemsworth indicated that as a parent, he generally tries to take a more progressive attitude toward gender roles. 
Discussing his role in the upcoming film, The Huntsman: Winter's War, the actor spoke to the importance of exposing his daughter to powerful female characters — "women where they're in charge of their own destiny"; who aren't "waiting for the prince to rescue them and ... can take over the world," rather than playing the "damsel in distress" role and waiting around on some guy.
It certainly looks like India's internalizing that message. Hats off to you, Hemsworth.
h/t Us Weekly