Beyoncé's Ivy Park Is Receiving Backlash for Not Including Plus Sizes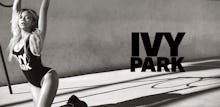 Just a week ago, the internet was abuzz when Beyoncé dropped her very own line of activewear. The leotard! The sweatpants! The headbands! On practically every site on which the line was sold (Nordstrom, Topshop, Net-a-Porter), snagging an Ivy Park article was akin to The Hunger Games. 
But despite this collective glee, the line now has its critics. 
Over the weekend, customers started speaking out on social media about the lack of options for plus-size women. Originally, the line was supposed to include pieces up to a size XXL but on all retail sites, the largest size is actually just an XL. 
What makes the sizing conundrum particularly disappointing is that Beyoncé herself has been a longtime champion of full-figured women (See: "Bootylicious"), and was even recently quoted in Elle saying of Ivy Park, "I was so specific about the things I feel I need in a garment as a curvy woman, and just as a woman in general, so you feel safe and covered but also sexy. Everything lifts and sucks in your waist and enhances the female form." 
The female form up to a certain size, that is. 
Read more: Beyoncé's Ivy Park Breaks Internet, BeyHive and Topshoppers Lose Collective Mind
However, some have pointed out that although the pieces are sized only up to an XL, many of the garments themselves are quite oversized. 
Additionally, Topshop doesn't technically stock anything above an XL (or a U.K. size 16), so this was just Beyoncé having to work within the retailer's own confines. 
But if a woman like Beyoncé can't break the rules and create items above an XL on Topshop, who can?