'Once Upon a Time' Finally Introduced a Queer Relationship After 5 Seasons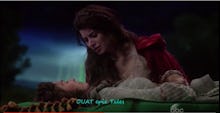 The timing couldn't have been better for ABC's Once Upon a Time to make its long-anticipated move to introduce a queer relationship for the first time in the series. The passionate kiss between Ruby (Meghan Ory) and Dorothy (Teri Reeves) gives the show important sexual diversity, which was promised by the showrunners prior the start of season five. 
The television industry is under fire for killing off a eight female characters in a single week, from April 4-10. Moreover, the deaths of lesbian characters in shows like The 100 and The Walking Dead drew the ire of fans. While these deaths occurred on shows that don't tie into one another, and are on different networks, killing off lesbian characters is a disturbing trend. 
"While fans don't have a right to dictate what a storyteller writes, they can demand that what they write is done in good faith and an understanding of harmful representation in the past," Dorothy Snarker wrote for the Hollywood Reporter. "They can demand that our representation be fair. They can demand that our onscreen lives, and happiness, matters as much as any other characters'. They can demand when being wooed by showrunners to watch that they keep their promises." 
With that in mind, fans were pleased that Once Upon a Time introduced its first same-sex relationship, and have already dubbed the new pairing "Ruby Slippers" — also the name of the episode. However, some fans felt the series conceived the love story seemingly out of nowhere. 
It's certainly not the be-all and end-all solution to TV's "Bury Your Gays" trope, but Once Upon a Time is at least moving in the right direction. Now, they have to avoid needlessly killing Ruby or Dorothy. 
Read more: 8 Major Female Characters Died on TV Last Week