Harvesting Coffee Beans Creates Massive Waste — But One Company Has a Delicious Solution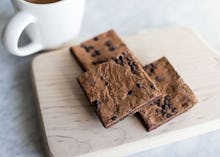 "This tastes healthy," Mic tech editor Alexis Kleinman said, sampling one of the caramel-colored blondies I'd set out on the desk. 
"I like that — but I also eat that kind of stuff," health staff writer Max Plenke concluded. 
The suspiciously nutritious-tasting goodies contained what's billed as a "nutrient-dense new super-ingredient," rich in fiber, iron, protein and antioxidants. It's being used in everything from cupcakes to chocolate to pasta, and it's attracted the attention of top chefs like Cronut King Dominique Ansel and Dan Barber, chef and co-owner of New York City's Blue Hill restaurant.
The ingredient is called CoffeeFlour — and believe it or not, it's made entirely from waste produced by the coffee harvest. 
Your daily latte produces more waste than you think. That's because coffee beans are just one part of the coffee cherry — the small red fruit that grows on the coffee plant.
After the coffee cherries are picked, their seeds go on to become coffee beans. The rest of the fruit — the pulp that surrounds the seeds — becomes waste. Often, the coffee pulp is dumped directly into streams, which can "play havoc with soil and water sources," according to the Sustainable Business Toolkit. Sometimes, the waste is left to rot in massive heaps, according to CoffeeFlour's website.
"The fruit is just discarded — it's put in a big pile somewhere on the milling property, and is typically dealt with at the end of the harvest," CoffeeFlour founder Dan Belliveau explained in a phone interview. "You can imagine if you take any fruit, put it in a big pile under the hot, tropical sun and leave it for two, three or four months, you're going to have a big pile of rotting mass on your hands."
Instead of sending the pulp to its moldy doom, "we take the nice fresh fruit, stabilize it, dry it and mill it into a powder we call CoffeeFlour," he said.
The company has implemented its flour-milling process on three continents, in coffee-producing countries including Nicaragua, Guatemala, Vietnam and Mexico. The countries keep 30 to 50% of the CoffeeFlour they produce "so it becomes part of their food supply," Belliveau said. As for the rest, CoffeeFlour pays the communities a premium for the cherries they harvest, according to a spokesperson. 
"We're also creating jobs," he added. With the discarded pulp's newfound purpose, there's work to be done even after the coffee bean harvest is over. 
It's good for you — and it tastes pretty good, too. "It's a nutritious lift to whatever you're doing," Belliveau said. According to the product's website, it's "high in fiber and is a good source of potassium. Depending on the serving size, it can also boost a product's iron, protein and antioxidant count." It's also gluten-free, though some recipes may taste best when CoffeeFlour is blended with other gluten-filled flours. 
"It doesn't taste like coffee — it's truly a dried fruit," Belliveau said. "So it has almost a dried cherry sweetness to it. You can also pick up fruity acid notes in it." It also lends baked goods a dark, pumpernickel-y color.
Does CoffeeFlour contain caffeine? Yes — but sadly, not as much as coffee. It's only a small amount, according to the website — roughly 12mg per ounce, around the same as dark chocolate. 
Ansel used CoffeeFlour in his Caramel Cardamom Coffee Cake. A bakery in Japan is churning out CoffeeFlour chocolate bagels, and chef Jason Wilson has used it to make pasta.  
How to get it: CoffeeFlour recently became available for retail through Marx Foods, where it costs a somewhat off-putting $9 per pound. (To put things into perspective, a 5-pound bag of all-purpose flour costs $2.61 at Walmart.) If you want to try it at a cheaper price, Sprouts Farmers Market is now carrying CoffeeFlour baked goods at $3.99 a package, a CoffeeFlour spokesperson said.
When it comes to cupcakes, cookie and other baked goods, purists may not opt for CoffeeFlour over other traditional ingredients. But for folks who want to help the environment — and who don't want to see billions of pounds of pulp turn to rotting, moldy waste — it might just be worth a try.