Does Beyoncé's 'Lemonade' Video Reveal When Her New Album Will Drop?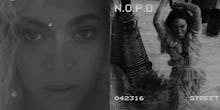 Beyoncé fans are feeling a whole lot of mixed emotions right now. After the "Formation" singer dropped an extended clip of her forthcoming HBO one-hour special Lemonade on Sunday night, the BeyHive is reeling over what this could mean for Queen Bey's album release date, whether the project will have accompanying music videos and what the hell is actually happening in the teaser.
To be clear, nobody has officially tied the Lemonade trailer to an upcoming album. In fact, Beyoncé has never even technically confirmed an album is on the way — actually, let's not even go there.
But wait! Did you catch the conspicuous number — 042316 — flash across the screen as Bey tears apart the streets of New Orleans? 
Yup. As Beyoncé swings her bat at a New Orleans police security camera, the left hand corner reads "042316." That happens to be the date HBO has marked for the release of the obscure Lemonade, though the network has yet to specify what exactly it's promoting for Saturday night, or how long the surprise will be. 
At first, the network's schedule listed Jurassic World will begin at 8:00 p.m. Eastern, while a special boxing match has a hard start time of 10:00 p.m. Meanwhile, HBO and Beyoncé both teased that Lemonade will kick off at 9:00 p.m. Now, it appears Lemonade is listed as a one-hour event on the network. 
So, what the hell is happening, Bey?
April 23 might be a symbolic date for Bey, perhaps as significant as the number four. In a video from the international megastar's 2013 movie-album for "Grown Woman," a young Beyoncé can be seen practicing some tunes in a home video shot on April 23.
Could Beyoncé have been planning this world-stopping reveal since 1993? 
Only one thing is certain: We'll find out — or at least we'll find something out — Saturday night.