Stuntman Backflips Over Speeding Formula E Car Despite What Every Law of Physics Says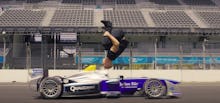 Just like Sterling Archer, Hollywood stuntman Damien Walters lives in the Danger Zone. Walters has had several badass, death-defying stunts in films like Skyfall, Kingsman: The Secret Service and Kick-Ass, among others, but his most impressive work to date might've happened on a racetrack. 
He put together a stunt with the FIA Formula E Championship series in which he would backflip over a speeding Formula E car going at 60 miles per hour on the track. The video demonstrates the tension that comes with the move as well as the careful attention to detail Walters, the driver and the rest of the team put into it. He had several practice flips in which the car would drive by adjacent to him, so that he'd be able to time his flip perfectly. 
However, Walters is actually privy to car maneuvers, having also leapt from one moving car to another with a barrel role in a past stunt, and has consistently proved himself to be one of the best stunt performers on his YouTube channel.  
Nonetheless, the stunt was met with some nerves from himself and the team, but in the end, he was able to successfully execute the backflip in impressive fashion.   
Check out the stunt, "Leap of Faith," in full below. It's also available as an interactive, 360-degree video, which you can access here. 
Read more: Watch Two Daredevils Speed Through the Skies Over Dubai in Jetpacks