Ted Cruz Tells Gay GOP Voter the Only Protection He Needs Is Religious Liberty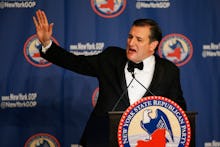 At a town hall at Good Morning America in New York on Monday, Todd Calogne, a married gay man who identifies as a "lifelong Republican," asked Sen. Ted Cruz how Cruz would protect him and his husband against "institutionalized discrimination," ABC News reported. In his answer, Cruz's support for religious freedom outweighed the protection of gay rights and the Supreme Court's decision on gay marriage.
Self-touted Constitutionalist Cruz cited the Constitution's first amendment that protects religious freedom, saying that the government shouldn't force people to "give up their faith and give up their belief." Cruz said he has "spent my entire adult life fighting to defend religious liberty," and "that freedom ultimately protects each and every one of us."
He added, "When it comes to religious liberty, religious liberty is something that protects all of us it applies to Christians, it applies to Jews, it applies to Muslims, it applies to atheists."
Following his initial answer, Cruz was asked by ABC anchors Robin Roberts and George Stephanopoulos if that meant the Supreme Court decision that allowed gay marriage on a national scale would be overturned, Cruz said that gay marriage should be on a state-by-state basis, according to ABC News. "If someone wants to change the marriage laws, I don't think it should be five unelected lawyers down in Washington," he said.
Read more: In One Tweet, Ted Cruz's Old Roommate Hilariously Called Out Cruz's Stance on Masturbation