Afrika Bambaataa Has Been Accused of Sexual Abuse by 3 More Men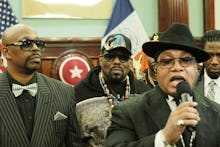 Dark days lie ahead for Afrika Bambaataa and the Universal Zulu Nation.
Earlier this month, Ronald Savage, a Bronx activist and politician, came forward accusing Afrika Bambaataa, progenitor of the first wave of Bronx hip-hop, of sexually abusing him as a youth. The hip-hop legend denied those claims vigorously, saying Savage's intent was to "tarnish my reputation and legacy in hip-hop."
Read more: Afrika Bambaataa, One of Hip-Hop's Legends, Has Been Accused of Child Molestation
Over the weekend, three more men have come forward with similar accusations.
In a story published Saturday on New York Daily News, 39-year-old Hassan Campbell shared that Bambaataa sexually abused him when he was 12 and 13 years old. He described Bambaataa's house, which always had "celebrities there, musicians, neighborhood heroes," as the "best place to be — and the worst place to be."
"[Bambaataa] is a pervert," Campbell said. "He likes little boys."
Two others, Troy, a 51-year-old man, who refused to shared to his last name, and a 50-year-old man, who has insisted on remaining anonymous, added to the claims.
"I still have a lot of anger about this," Troy said. "I've been dealing with this for years. It's a shame this didn't come out earlier."
Each man has said that Bambaataa showed them pornographic pictures and performed oral sex on them. Mic has reached out to Bambaataa's camp for comment, as have Pitchfork and the New York Daily News. As of press time, he has not responded to the new set of allegations. 
In previous statements responding to Savage's initial accusation, the Zulu Nation described Savage as "mentally challenged" and the New York Daily News as being "compromised and controlled by U.S. government intelligence" efforts to discredit the Universal Zulu Nation.